Posted by
Rolento
in
Hyper Super Street Fighter 2+ NES 25 1/2 Anniversary Edition.
(Started by
Bea
June 29, 2014, 07:13:00 pm
Board:
Projects
---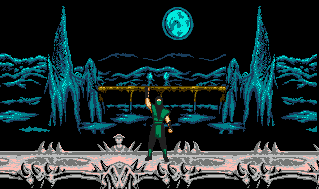 Remember ladies and gentlemen, super secret ninjas are best ninjas. Thanks again to Eli for rigging up both stage and theme for the original well-known hidden character with difficult fighting conditions, Klassic Reptile!

[Edit] Okay, just got a message from SF2NES team; it would appear this was -not- actually the character I was supposed to be prepping for today's reveal this whole time. Probably should have mentioned something before I asked Eli to do all that extra work... Excuse me as I hastily create the graphics necessary for the proper reveal!