Posted by
The_None
in
T_N's long and rocky road
(Started by
The_None
November 15, 2015, 02:25:36 pm
Board:
Graphics
---
It's been a long while, and a couple of months had been a bit rough in places that included my two hard drive troubles (I had a lot of things backed up, not much worries) and therefore I've preferred to make sure I got hardware issues out of the way before proceeding with any serious work. I was able to work on some things on April and September and I've been meant to carry on, but I had a hard time staying consistently motivated throrough the other months, so let's see if I'd be able to warm myself into graphics by doing single sprites again.

This time I've tried to trace over and pose a bulk drawing and modified the drawings into what the outfit the character would get. Not sure was it that neccersary for me to try to capture the arm muscles considering these would be concealed by the suit he's wearing, but I tried whatever I tried. Perhaps eventually I'll try outright using a posed 3D model through the tools Helios suggested once I'd get around finishing that sprite, if ever....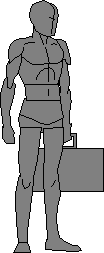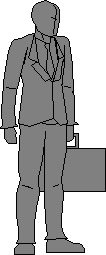 Spoiler:
Reminds me.....
(click to see content)
Spoiler:
Also, a belated bonus
(click to see content)
---
So against my better judgement I opted to work on further on the sprite before waiting on any feedback and this is what I did.....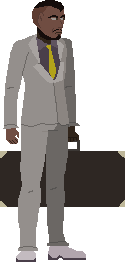 Yes, I ended up trying out a simpler spriting style for a change, perhaps starting out simpler would've been the key before I'd be able to get onto something slightly more ambitious. River City Girls had a bit of influence there, as it had in the previous sprite I did before Garcian, as below