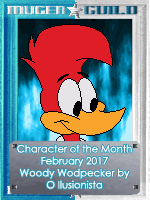 Posted by
O Ilusionista
in
Megaman Robot Master Mayhem 2.5 Bug Fix Release 3/24/2019
(Started by
laspacho
February 28, 2019, 07:02:44 pm
Board:
Your Releases, 1.0+
---
Thanks everyone for the bug reports.
This should be the last update for this version - unless something REALLY bad happens.
Feedback is still appreciated, but it will be addressed on the new version

I had started working on the build 3.0 where a lot of things will be changed, like effects, velocities and many things on the template.
We will have more playable characters - including both returning characters and new ones, new stages and new bosses.

If everything goes well, the RMM 3.0 will be released in december '19.
Thanks.