#1
Posted by
rgveda99
in
Sailor Uranus Sprites (arcade SNES style hybrid)
(Started by
rgveda99
November 20, 2013, 03:52:50 am
Board:
Sprite Projects
---
Finally got back into spriting again. Got to overcome my INFP artist's block thanks to the superbetter app.

Here's just a frame of Uranus having her very own anti-air which I based off of Gallon's Climb Razor.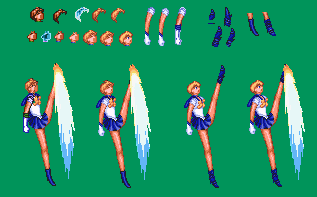 Not perfect in my eyes but I learned not to be too hypercritical and just get things moving. I even feel like editing one of Ray's moves.



Decided to bump this again after seeing this.

https://www.youtube.com/watch?v=SlmtglWX5R4

Didn't know the game was somewhat popular next to TMNT. I hope the game makes it in EVO.


Dream come true. Sailormoon S makes it to Animevo.