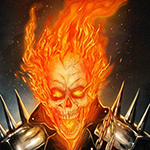 Posted by
BurningSoul
in
BurningSoul's Edited Characters
(Started by
BurningSoul
March 04, 2021, 07:26:12 PM
Board:
Edits & Addons 1.0+
---
Another Capcom Update,with Rowen's help,Changelist below
- xScale decreased.
- HitPause time changes.
- Backdash distance increased.
- Cross Punch has increased startup but moves forward slightly.
- Distance required for Close Stand HP increased.
- Raw Flame Chop has increased startup and damage and causes knockdown.
- Captain Uppercut damage adjusted, and it has slight forward movement before the jump so it's easier to cancel into properly.
- EX Captain Kick slows down Capcom on hit so the wall-bounce is easier to combo from.
- Captain Shoot tweaked with the hitdef fixed.
- EX Captain Corridor only does 1 hit and isn't as safe.
- Captain Fire tweaked and now has a MAX version.
- Captain Storm damage decreased.