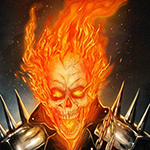 Posted by
BurningSoul
in
Character to use its own lifebar?
(Started by
BurningSoul
October 29, 2015, 04:35:52 PM
Board:
M.U.G.E.N Development Help
---
One of my Mega Man 8-bit characters does this, and displays its 8-bit vertical lifebar instead.



Code:

[Statedef -2]

[State -2, AssertSpecial]
type = AssertSpecial
trigger1 = 1
ignorehitpause = 1
flag = NoBarDisplay

thank you but just asking it just disables his owwn lifebar right?