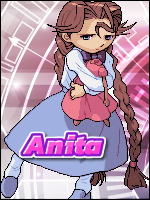 Posted by
Mazemerald.
in
ANITA MVC 2020 by Mazemerald
(Started by
Mazemerald.
June 02, 2020, 10:30:47 AM
Board:
Your Releases, 1.0+
---
- The icon and her portrait are too big and only is to be shown in your fullgame or screenpack.
- While you have a readme file, but no moveset for this character.
- Her taunt seems to be off.
- No MVC hyper background.


My additional feedback:
- No Dash Sound
- Is it normal that she's in mid-air after hitting with her QCF+2K?
- How do you get her Level 3 (x,x,F,a,z) to hit?

Also if you need a Non-Sendspace link I could just about do it for ya, unless you plan to update her in some way.



your help is really welcome, sometimes making a char alone you can lose some details or let to escape bugs unhappily.

thanks in advance.