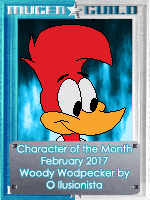 Posted by
O Ilusionista
in
Street Fighter Spec Ops BIG 2020 trailer
(Started by
O Ilusionista
January 01, 2020, 04:36:22 PM
Board:
Projects
---
Thanks buddy.
I hope to show more stuff soon.



I hope better this year than 2019 to you!


From what I can already say, looks like this year will be even worse than last year. But, lets try to have some hope, lol


I love this project! It's got that hype I want for my own project!


And we are using your songs, so you are responsible for part of the hype too